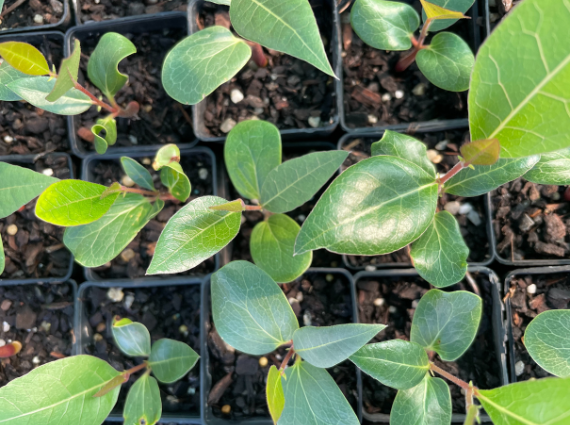 Remember the feature image from our first edition of The Leaflet? We thought you may be interested to know that those seedlings [Brachychiton populneus | Kurrajong] are being grown by TreeProject volunteers for a project in collaboration with Upper Murray Landcare and Lions District V6 to revegetate bushfire affected areas of the Upper Murray in Towong Shire, North East Victoria.
Upper Murray Landcare Bushfire Response
The 2019-20 bushfires severely affected the communities of the Upper Murray in Towong Shire, North East Victoria. Rehabilitation and restoration of habitat, shade and shelter and other biodiversity values on private land has been a priority for Upper Murray Landcare during 2020-21 to assist with land management recovery.
Property inspections have been carried out by Landcare project officers, at the request of land managers through an expression of interest (EOI) 'tick the box' form.  This covers everything from weed management,  restoration of habitat and corridors, revegetation, gully erosion, and pasture management.
The aim is to provide a comprehensive assessment of  immediate and future works required to achieve land management objectives identified by the landholder.  To the end of March 2021 there were 139 visits completed with on ground works mapped and measured and placed on a database awaiting suitable grant opportunities to support works where required. The first available Funding was received in November 2020 and an intensive on ground works program started.
It will be complemented by field days and information sessions arranged to meet needs as indicated on the EOIs. These include a Birds on Farms program with Birdlife Australia and a 3 year Healthy Soils and Pastures Program funded by Bushfire Recovery Victoria.
Upper Murray Landcare has been privileged to be invited by land managers, both public and private, to work with them to assist in restoration and recovery in our catchments. With volunteer administrative support, a Working for Victoria team on ground, technical assistance from Agriculture Victoria and generous donations of materials by Lions District V6 the program is achieving great results.
Well done to all.
Article by Lyn Coulston, Upper Murray Landcare Coordinator .