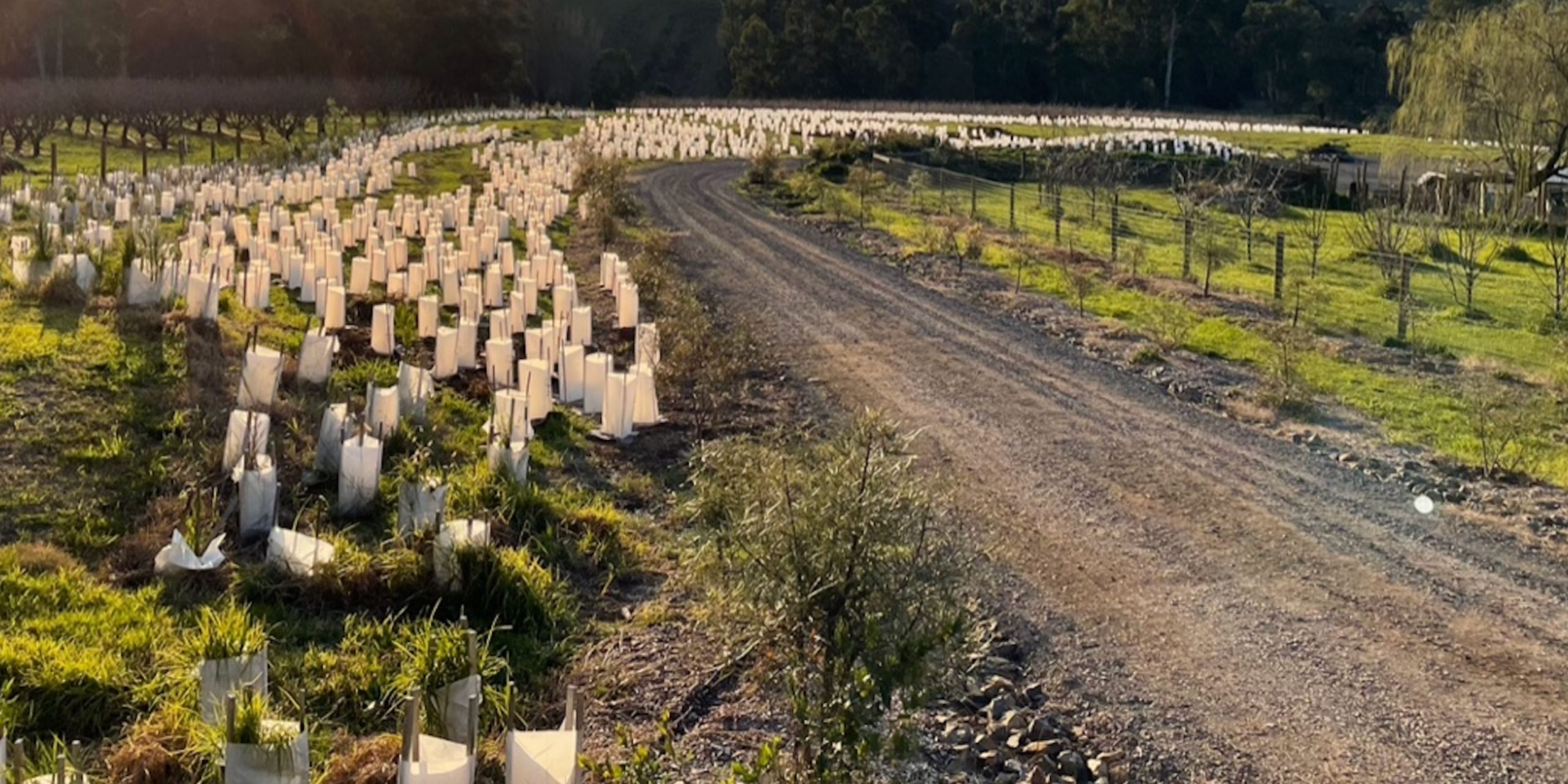 Phil Johnson and his wife Sarah had dreamed of setting up home on a property that had amazing potential to create an incredible environment and habitat for wildlife. Their search led them to the Yarra Valley, a region full of agricultural lands of strawberry farms, cherry orchards and of course vineyards. It was the winter of 2016 when they first laid eyes on their future home, and whilst for most people who know they've found 'the one' when it's love at first sight, for Phil and Sarah it was heartbreak at first sight when they knew they found their future home. You see, in winter vineyards are not beautiful, but barren trees with exposed wire without a hint of wildlife in sight, not even a bird! For some people, the ask of revegetating this picture into an abundant native landscape would be unthinkable, but for Phil and Sarah it was the opportunity of a lifetime.
Phil who has 25 years experience and is an award winning Landscape Designer who is the only Australian to ever win a Best in Show at the RHS Chelsea Flower Show understands how to create natural habitats and rejuvenating ecosystems.  He understood the incredible quality of the soil on this land and how he could create something truly magnificent – this would be his legacy.
In their first year living on the property, they observed the land – the different landscapes, microclimates and vegetation. They planned how to start recreating the landscape and there were two key things that prioritised his vision. Firstly, there were no native plants onsite, just vineyards and weeds. Secondly, each morning while enjoying a cup of tea, they would see a pair of birds – white faced grey herons – these birds would fly from their neighbours' dam over their property into the other next neighbours' dam,  always skipping his property. This fuelled their obsession to create a naturalistic landscape where they hoped those two beautiful birds would one day become regular visitors at their home. During the Covid lockdowns, Phil and Sarah started pulling out 9 acres of vineyards and wire, and the effect was almost immediate, not only did the two herons start landing but many other birds too. This is when their hearts started healing and he knew he was doing the right thing for nature and his family.
Given the nature of the land, he then set in collaboration with Yarra Ranges Council and the Ribbons of Green program to revegetate these spaces for the wildlife. In his first year, over 2000 plants were planted. This year with the TreeProject's community of volunteer growers and planters over 5000 new plants have been sown and planted. It's a massive achievement and Phil and Sarah are thankful for the enormous support from the TreeProject. Whilst Phil and Sarah look over a field of biodegradable green corn starch plant protectors today when they enjoy their morning cup of tea, they both know that next year their view will look completely transformed with beautiful green contours across their landscape.
Not knowing what to expect, Phil found that working with the TreeProject was truly one of his highlights of 2022. He knew there would be people who would grow his seedlings and there would be people who would come to plant them, but he never thought he would meet or be part of such a wonderful and energetic community of volunteers. Phil remembers the story of a man who came to deliver and see where the 5 boxes of young plants he'd grown would soon grow up. Phil was blown away by this grower's enthusiasm – this volunteer lives in an urban apartment and had nurtured these seedlings in tubes and boxes laid out on ironing boards on his balcony. The TreeProject has shown Phil that we can all make a difference to the environment collectively whether we live in the city or the country.
As an industry leader, Phil wants to make sure we act now to rectify and leave behind the best environments that will inspire and benefit our future generations to come. He feels you can have a balance for both agriculture and biodiversity and healthy environments.
Big dreams come with big goals, and Phil and Sarah have big ambitions to have 100,000 native plants on their property within 10 years. Already looking forward to the support of the TreeProject community in 2023, join them as volunteer growers and planters as they aim for 10,000 more plants next year!
---
Are you a Landholder or a Landcare Group – do you have a long-term revegetation strategy? Chat to us we'd love to help you develop a long-term plan to get more trees in the ground!