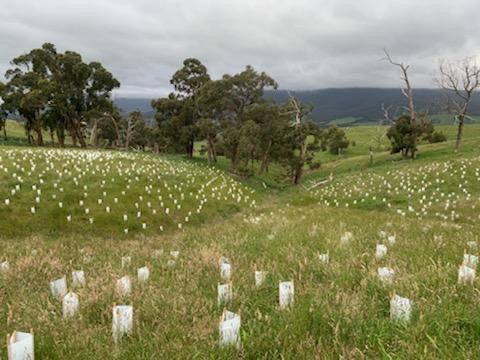 TreeProject volunteers are helping to increase revegetation work in the Yarra Ranges with their mass planting efforts.
Tim Brown, Biodiversity Officer for the Yarra Ranges council, coordinates the Ribbons of Green program that supports new green corridors on private land to connect existing habitats. Tim and his colleagues work with landholders to assess suitable sites and species for each place, then help to source indigenous plants—sometimes from local nurseries, sometimes from TreeProject growers. But what really helps boost the rate of revegetation is people power, and that's where TreeProject comes in.
We coordinate teams of planting volunteers, often coming from the same workplace, to come on site in their dozens to put the plants in the ground. It's an enjoyable day out for volunteers who might not otherwise have the opportunity for direct involvement in revegetation, and a great benefit for landholders who don't have the capacity to plant at this scale on their own. Tim describes an important property on the Yarra in the Warramate Hills near Gruyere, where TreeProject contributed 3,000 seedlings in 2020, creating a substantial habitat corridor in the gully. Unfortunately COVID-19 prevented TreeProject volunteers from planting them, but we'll be back!
And since the resilience of a patch of vegetation is related to its size, the long-term advantage of the Ribbons of Green and TreeProject partnership os that together we can foster larger plantings more quickly, which vastly helps the prospects of these new corridors!
Article by TreeProject volunteer & coordinator, Kate. 
March 2021