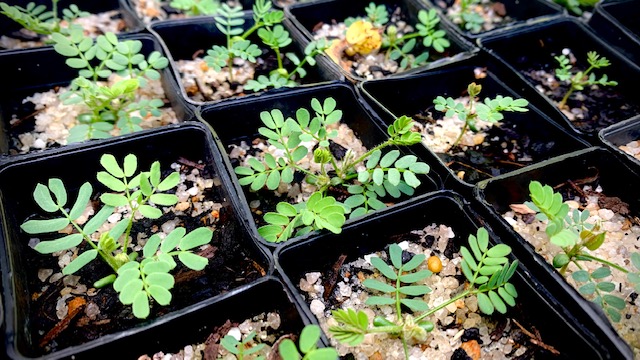 Written by Carolyn Gilpin, Volunteer Grower of more than two decades.
I can't recall how I heard about TreeProject volunteer growing but I decided it was something useful and green I could do in the backyard of my parents' home, where I was living in the late 90s. At the time, it seemed a long way to drive to pick up the kit, from the outer east across town to the Kensington stockyards. Once there, the bluestone cobbles, battered post and rail fencing and gnarled peppercorn trees fascinated me, a touch of rural in the city.
For the first few years, it took me forever to fill the 336 tubes in my one kit. And to attempt to drop tiny seeds into tiny holes in the soil (I now just sprinkle them and follow with a light scattering of soil). Acacia seeds were my bugbear, trying first to scarify their shiny, miniature carapaces with a sharp knife without slicing myself open. Then I resorted to boiling water, but how long to leave them? And how did you know when they were ready? This was pre-internet and mobile phone days, no website or WhatsApp group for quick advice. I still have an earth-smeared paper growers' manual somewhere.
My favourite memories (like most growers) are of first germination… after several weeks of anxiety that maybe I'd mucked it up, there's such joy and wonder when the first tiny specks of green emerge. The tough acacias were particularly satisfying and they're still my favourites, that tiny curl of lace-like frond.
Thinning the seedlings was the hardest. The temptation was real at the start to keep them all, but I didn't yet have the experience and skill to transplant many extras to spare tubes. I remember looking down to see a deathbed of fragile, discarded seedlings strewn at my feet. But it didn't take long to see that the single ones remaining in each tube grew stronger daily, so it was worth the grim chore.
Then fighting leaf curl, powdery mildew, grubs and worst of all, the devious cutworm, slaughtering twenty seedlings overnight like a crazed logger taking out a forest.
Finally, the boxes were picked up and driven away to their destination. I can't recall where the early properties were, they were usually just a place on a map. In fact I've only ever helped plant out once, in cold misty Gippsland hills. It was a long day but thousands of seedlings went into the soil for shelterbelts and erosion prevention.
I volunteer for TreeProject because it's a satisfying and tangible thing to help regenerate stripped properties. Being an introvert, it's a perfect way to volunteer my time and energy for a great cause, without having to leave my backyard or socialise beyond my comfort levels!
It was also ideal during lockdown, especially in 2020. Feeling helpless and distraught by the devastating Black Summer firestorms and our ineffectual politicians, the very least I could do was transfer as many possible extra seedlings into scrounged spare tubes. We eventually delivered ten full boxes.
Every time I think "It's too hard, I don't have time, I'll leave it this year", I remember how much every seedling is needed to replace the forests logged or destroyed by increasingly worse fires and floods. It's something concrete other than donating what little money we can. And after twenty-plus years of volunteer growing, I'm still spurred on by the joy of those first tiny cotyledons.
---
Are you keen to 'grow' memories? Get in touch, we'd love to have you volunteer with us as a grower.