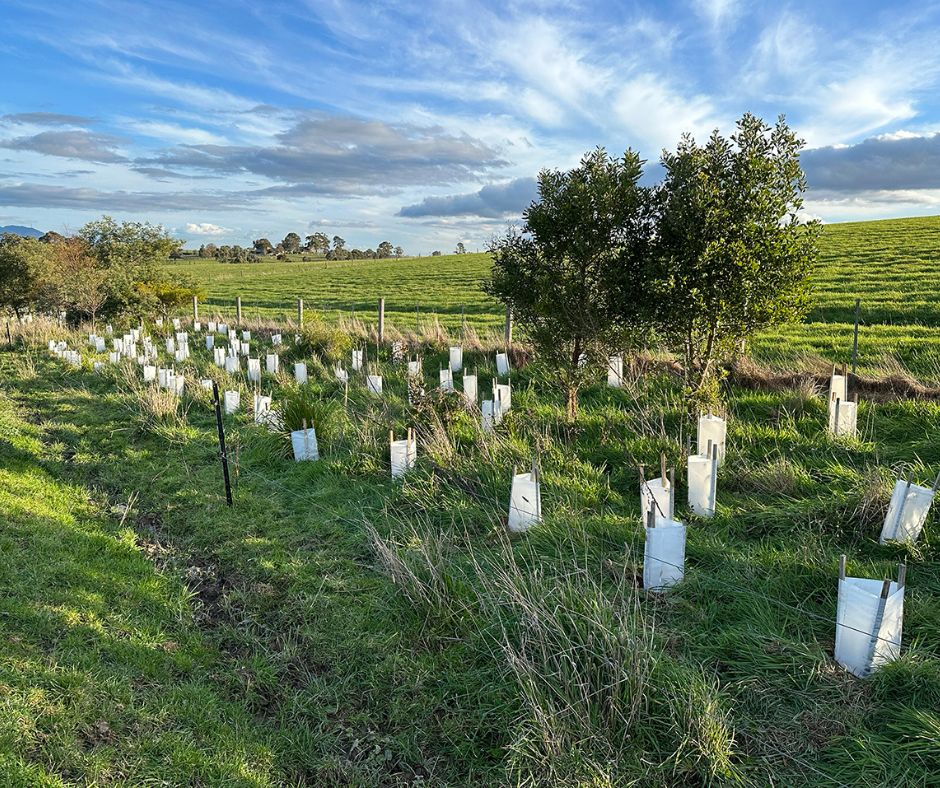 My work involves getting on a lot of planes and writing about what I see at the other end, but it still took a while to make a habit of ticking the carbon offset box on the airline booking page. And the thought that perhaps we could do more isn't necessarily why, when the TreeProject appeared on our horizon, I ticked that box too. Actually it was my wife, who regularly disappears down rabbit holes on the internet and comes up with carats of golden opportunities.
A few weeks later, on a sunny winter Saturday, we found ourselves with a few dozen strangers plodding around a creek bank on a property in Coldstream, making holes, extracting those fragile sticks from their containers, banging in stakes and wiggling their guards into place. From these little things, we were assured, big things will grow.
All this was being done under the confident direction of the landowner, and we soon saw how it made sense to make it a blitz job; it would be a long, lonely and not necessarily fruitful job doing it solo.
Our group was a random collection of volunteers from all over, plus a few neighbours, which underscored to us that this was a community project, not just an ad hoc program on random properties, and on this day we felt a little bit a part of that community.
Maybe 12 months later we did another Saturday session, at an almost neighbouring property, and then we got called up for a weekday planting, on a hillside just as you come into Healesville. This workforce was drawn from the workforce proper, it being a volunteering day for teams from two of the big four banks. The hill could be seen from the highway as you drove into Healesville from Melbourne, and we always look across to our handiwork on the odd occasion we drive past, not that the trees have grown all that much yet.
It took us another few years to volunteer again; Covid restrictions played a part. But this winter there we were, this time in Yarra Glen. It was a glorious day and an easy site, level, protected from the wind and not too large, and even though there were at best eight of us, it was amazing how many trees we planted.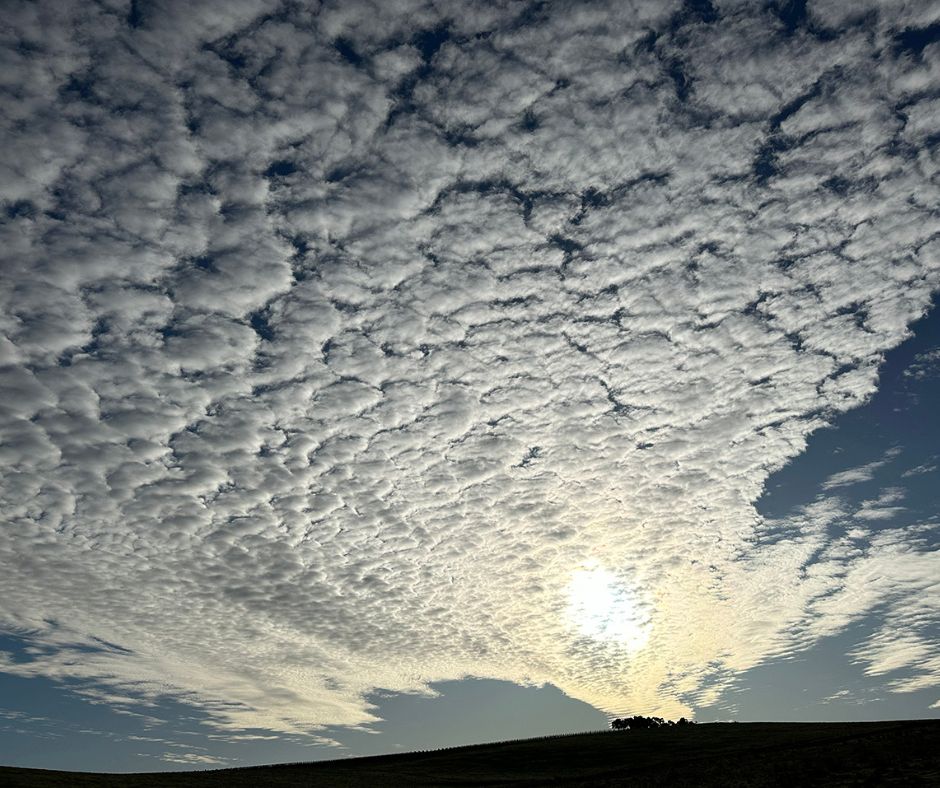 The contrast with our last effort could not have been greater. This time there were dozens of us – the banks again – and the weather forecast was sub-Antarctic, with the worst of it predicted to hit around 11am. Well, there's nothing like a deadline and everyone ripped into it. I've not worked in as many layers of clothing and as much mud, but 1100 trees – around 30 per planter – made it into the ground in less than four hours.
So now I think we're hooked, because we got home and immediately signed up for the last planting of the season. My wife and I have worked out a system: we let younger shoulders wield the Hamilton digger, then she decants and plants, and I bang in the stakes and slip on the guards. And as I pound away, I've realised the song constantly bopping through my head is Peter, Paul and Mary's "If I Had A Hammer". A feel-good song for a feel-good day.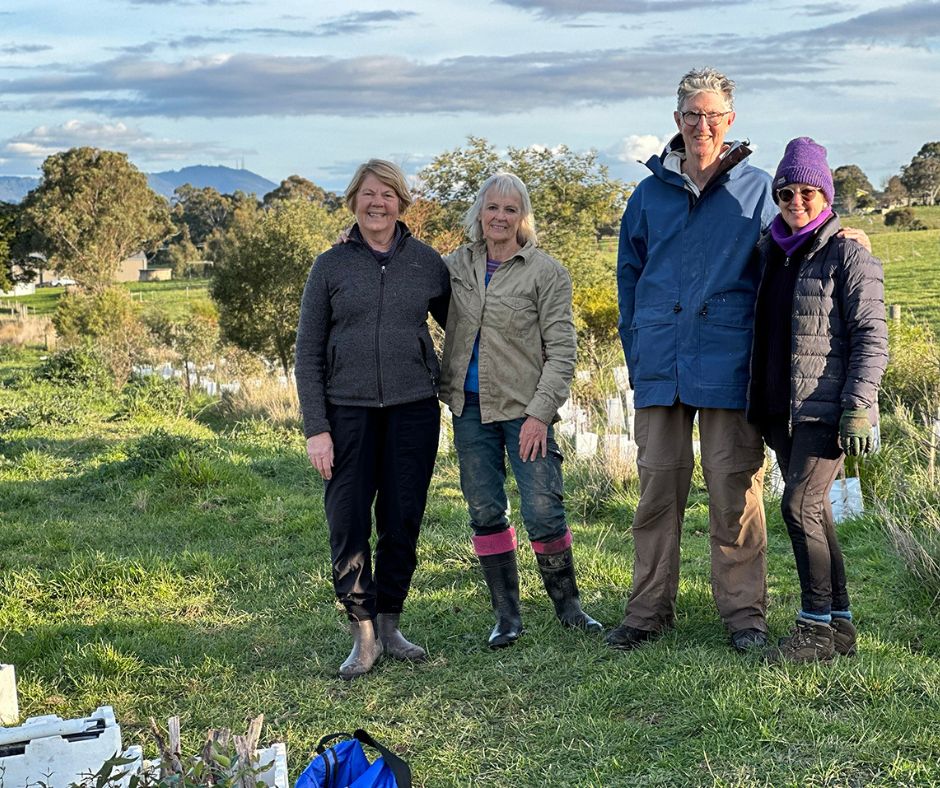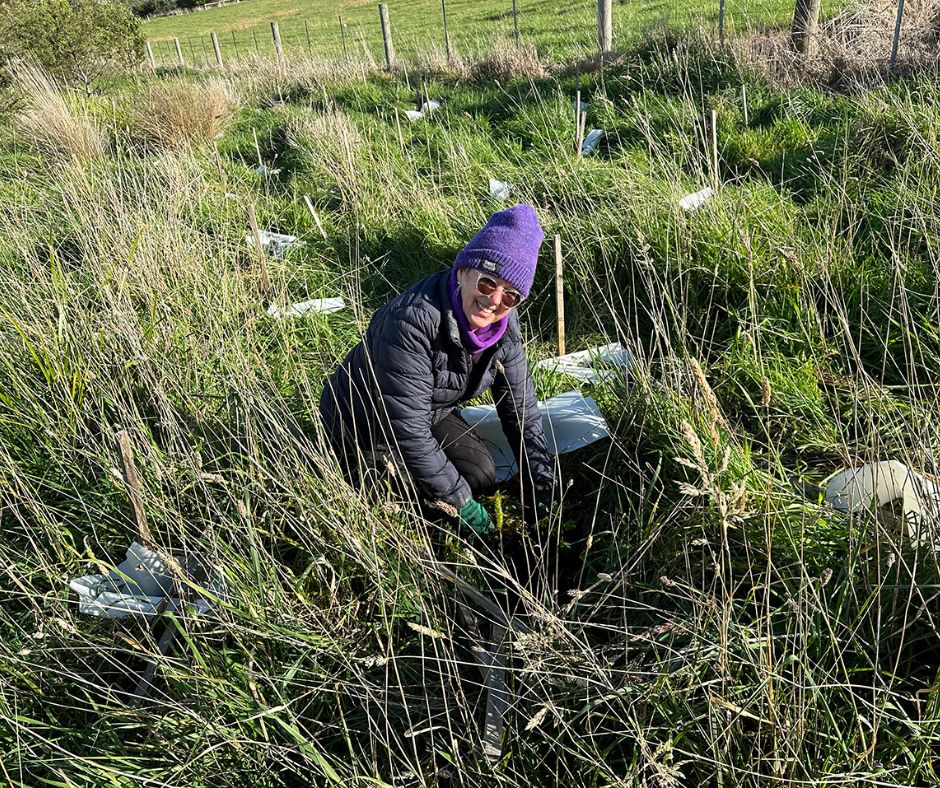 Thanks to Jeremy Bourke, writer/editor/journalist and member of the Australian Society of Travel Writers for this article.
---
If you'd like to help us get ready for the next planting season – please sign up for upcoming volunteering sessions here.