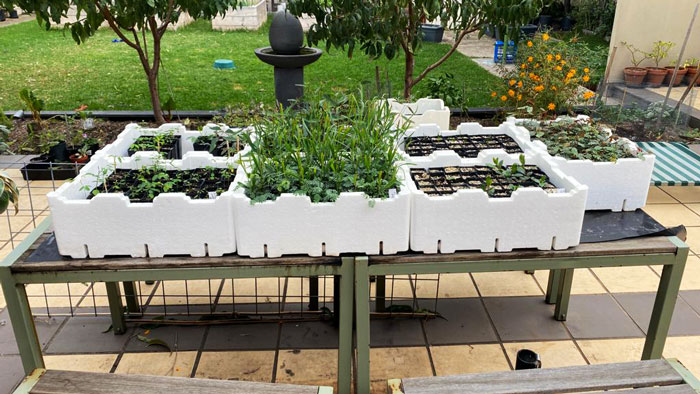 Growing Seasons
When you register to grow with us, you'll need to select a growing season, this determines whether your seedlings will be planted in either autumn or spring. Autumn growers will usually pick up their kits in November/December, so will need to grow over the summer holiday period, whereas spring growers will pick up their kits in late January.
As a result of climate change (and drier conditions), we now need more growers for the November/December germination period.  If you are away for some part of the summer holiday period, you will need to organise a substitute waterer.
Grower Pre-Requisites
Before you can register to grow for a particular growing season, the following pre-requisites must be met in order for you to be eligible to grow with us:
Space
Space to house 7 polystyrene boxes in your backyard, with each box having almost 50 seedlings, a total of almost 350 seedlings. Around 2 square metres is required. View some of our sample seedling propagation setups.
Sunlight
Adequate sunlight for your seedlings in your growing location, with a minimum of 6 hours per day of full sun. Note that daily sunlight availability changes quite dramatically through the season. Sun Seeker is an app (available on Apple and Android devices) that can help you work out how much sunlight your front or back yard will receive.
Duration
The duration of your growing time can vary but generally it's around 4 months but can extend to 6 months depending on conditions.
Email
Most of our communication is via email so you need to be able to review emails regularly.
Pick-up
The ability to transport boxes from our depot or other pick-up locations to your home.
Training
Time to commit to reading our grower guide and to attend online or face to face training.
[Total: 3 hrs]
Sowing
Time to commit to potting up tubes, preparing soil for each different species and planting seeds in each tube. Expect 1-2 hours per box depending on experience.
[Total: 11 hrs]
Watering
Time and ability to provide daily (5 mins/day) watering for your seeds in summer, twice-daily (10mins/day) on hot days, or to find a substitute waterer for this period.
[Total: 16 hrs]
Maintenance
You'll also need to:

Check seedlings for pests and disease
Transplant surplus seedlings into individual tubes and/or thin seedlings as required
Keep in contact with your coordinator for advice on growing and how to cover off shortfalls
Reporting: keep a monthly tally and update TreeProject of your progress
Final checks when delivery or pick up is set

[Total: 10 hrs]
Other Ways to Help
If you're not yet ready to commit or don't meet the requirements listed above, there are many ways that you can get involved or assist TreeProject with our mission to restore Victorian habitat. There are a number of ways that you can get involved, financially or otherwise:
In addition, if you'd like to join our mailing list, please subscribe via our Stay In Touch form below.
Apply to Grow
If you do think you're up for the task of becoming a TreeProject grower, we commend you for getting this far and for your determination! Growing with us is a very rewarding opportunity and we're sure that you'll get a lot out of the experience.
Please apply as a grower via the link below.